A 401(k) plan, when appropriate for you personal financial situation, can be a powerful vehicle for getting you to where you'd like to be a retirement time- if you take advantage of all it has to offer.
• For the Times of Your Life
Let's face it: People generally don't like thinking of talking about life insurance. But there are far worse things to ponder – like what might happen to your loved ones if you don't have it or don't have enough of it.
• Freshman Gains and Losses
So many temptations, so little oversight: Freshman year at college can be a challenge. Waight gain, or the "Freshman 15" is a good example of how easily so first-year students give in to temptation. On their own for the first time, many kids make poor choices.
• Some Health Insurance ABCs
Are you having trouble understanding your health insurance options? Don't worry, your're not alone. These definitions may help.
• Tax Breaks Can Trim Health Care Costs
If you have the opportunity to contribute to some type of health savings account, you can lower your health care costs by cashing in on some great tax breaks.
• Q&A Let's Talk Retirement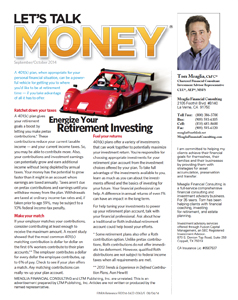 Click Here >
to read this issue of
"Let's Talk Money"